This is a Sponsored post written by me on behalf of White Cloud for SocialSpark. All opinions are 100% mine.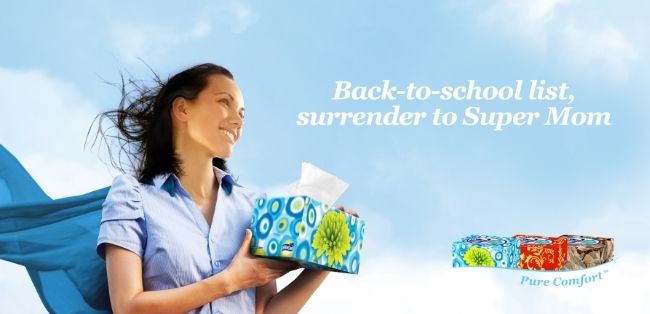 I have a three year old that will be attending a full day school this coming fall. He has an on the autism spectrum disorder and so he gets to go to school early and get a little bit more work and help. We are thrilled. We have been on a waiting list for this school for a very very long time but it kind of came on fast, and we didn't know he would be attending and so I find myself running around with my head cut off thinking about back to school stuff. Wow their can be a lot to buy and organize and take on. I am a super organizer and yet, this is a lot. I have been making a lot of lists when it comes to clothes, backpacks, lunch boxes, school supplies, lunch money, etc. Not to mention--organizing our schedules, thinking about preparing on the go breakfast and snacks, and just balancing our lives. It can be overwhelming. 
That's why I'm excited to promote White Cloud and talk with you about a coupon. They are offering $0.75 off their White Cloud Facial Tissue multipacks. The great thing about the multipacks is that you get 3 or 6 boxes at an affordable prices and they have a limited edition multipack created by kids at Children's Miracle Network Hospitals. They are also going to make a donation to the three CMN hospitals that sell the most boxes. Be sure to print off the coupon at http://www.mywhitecloud.com/school-supply-list/
What I personally love about White Cloud and this is why I have partnered with them on writing these posts before for their company is that they have soft and soothing tissues at an affordable price. Be sure to see the White Cloud Store Locator and become a fan on the White Cloud Facebook Page, the White Cloud Pinterest Page, and the White Cloud Twitter Page. Remember! Back to school Shopping might be overwhelming but at least you can cross off White Cloud Facial Tissue on your list and tackle those things as a Super Mom.